Kitty Hawk NC Vacation Rentals
The town of Kitty Hawk, NC was originally known as Chickahauk. Kitty Hawk is the closest English pronunciation of the Indian word; meaning "goose hunting grounds". There are other stories stating that Kitty Hawk's name came about from the dragon flies, known as "Skeeter Hawks". With the Outer Banks accent some thought locals were saying "Kitty Hawk". The name was kept alive by the amount of hawks that are prevalent on the island as well as local tales.
Kitty Hawk is a part of the Barrier Islands that sits on the edge of the Graveyard of the Atlantic. Our ocean earned its rightful name for its extremely shallow waters, which vessels would run aground, without a warning. The lighthouse came to help the situation, however the vessels couldn't accurately measure the distance from ship to beach, causing them to run aground. Many shipwrecks lay off the coast of our Kitty Hawk beaches, one lying at Lee St. where locals dive for excellent spear fishing and to take a look at history at its most vulnerable.
Kitty Hawk is known to be the "First in Flight", however the actual town where the Wright brothers flew a glider was in the town of Kill Devil Hills. The confusion about where the first airborne flight happened was because the newspapers picked up the dateline of Kitty Hawk. The telegraph they sent out was from Kitty Hawk to tell the world they had flown, and the building was a lifesaving station, now The Black Pelican Café.
Kitty Hawk is full of exciting and historic events. You just have to visit to learn about each tale's significance to our friendly town. Browse our inventory of vacation rentals below and start planning your next trip! Don't forget to check out the nearby towns of Duck, Southern Shores, Kill Devil Hills, and Nags Head.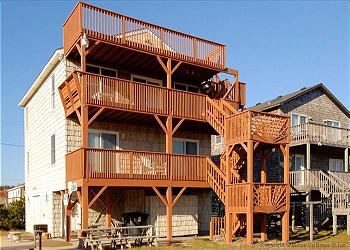 OCEANSIDE with fabulous ocean views!! This gorgeous home is only 350 feet to the beach access.
Beds: 4 | Baths: 3 | Sleeps: 8
More Info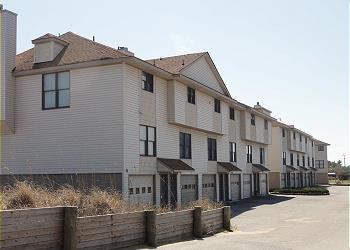 Semi-Oceanfront - Only 200 feet walk to the beach! Cute townhouse with great community amenities such as pool, hot tub, tennis and more!
Beds: 2 | Baths: 2.5 | Sleeps: 4
More Info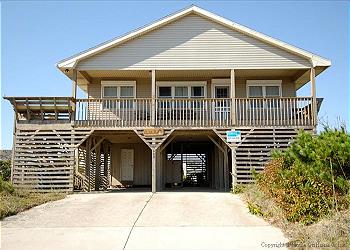 Semi-Oceanfront: Call for info! 35 feet from the beach access with a private walk way to beach. Wonderful ocean views. Available November 1st for winter rental.
Beds: 4 | Baths: 2 | Sleeps: 9
More Info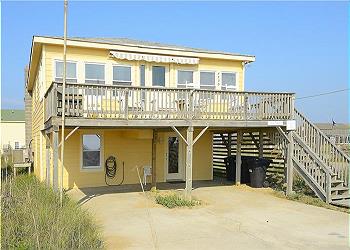 Semi Oceanfront (1K, 3Q, 2S) Unobstructed Ocean Views! You can't get any closer to the beach without paying oceanfront prices! NEW in 2013: Garage/Game Room is totally renovated w/ pool table, ping pong table, and big screen TV!
Beds: 4 | Baths: 2.5 | Sleeps: 10
More Info